Binance Review
Today, the digital currency market offers traders a wide variety of choices when they are in search of a cryptocurrency exchange. Therefore, selecting the right trading platform can often be confusing for both new and veteran cryptocurrency traders alike. However, one of the best exchanges for engaging with the digital asset markets is none other than Binance. This popular cryptocurrency exchange was launched in China, but has recently shifted its headquarters to the Island of Malta in the European Union as it is more crypto-friendly. The platform has gained considerable popularity due to its crypto to crypto exchange services.
Even though it began live trading in July last year, this cryptocurrency exchange has become recognized all over the world because it offers a robust set of trading tools, security feature and charts. It has an impressive number of Initial Coin Offering listings, a professional and friendly team and boasts low fees. When you visit the platform for the first time, you will immediately notice that it provides you with two options for digital currency trading; basic and advanced. The primary difference between the two versions is that the latter gives access to a more in-depth technical analysis of the value of digital currency over time.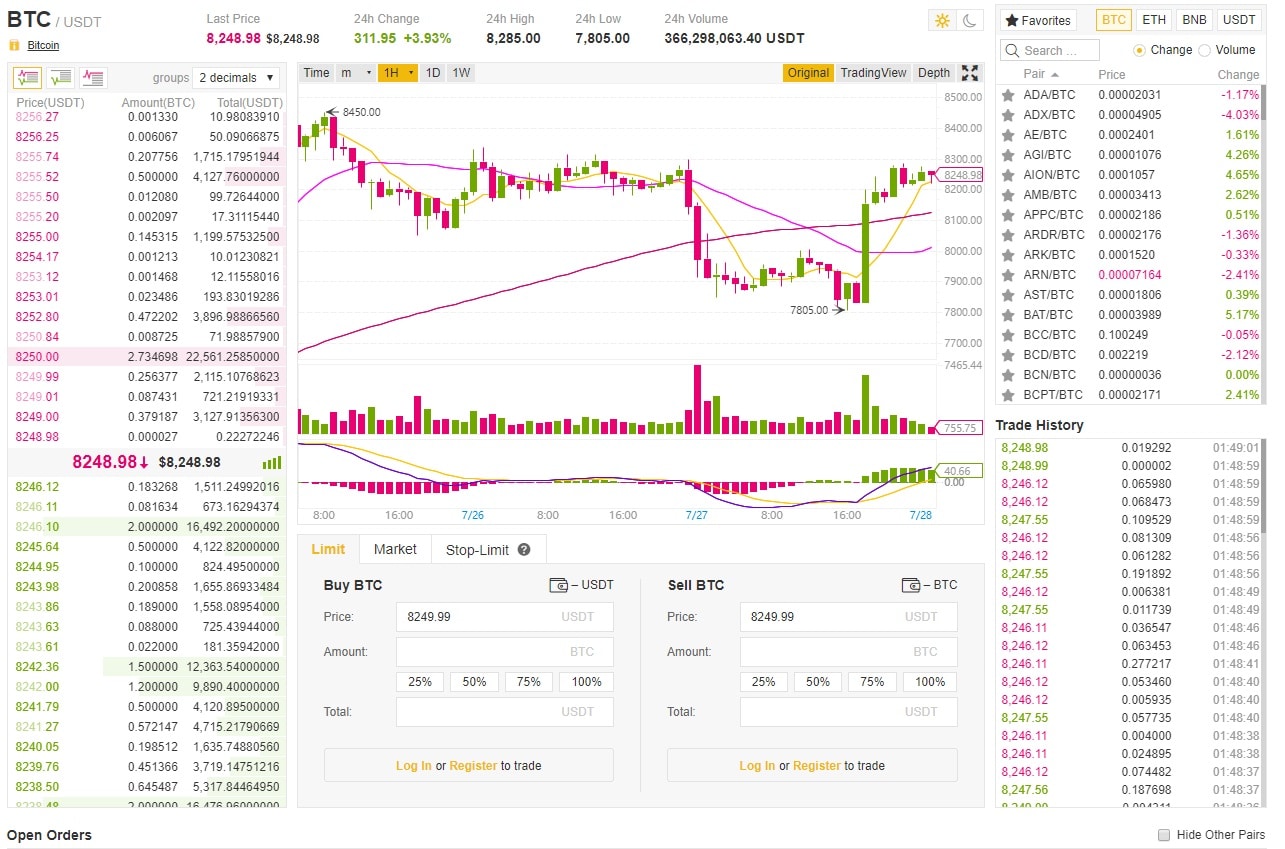 As far as the dashboard of the basic version is concerned, it provides charts and graphs for the currency pairs traders choose to trade, along with trade history and order books. The availability of both exchanges has made it easy for beginners to execute their traders whereas professional traders have been able to benefit from more advanced options such as margin trading. The layout of the Basic version is well-designed and all the required information is clearly presented with graphs in the center, prices on the left and the trade history and buy and sell boxes on the right.
Binance went for a dark theme for the advanced interface and it has larger trading charts with buy and sell boxes underneath the trading prices listed on the right. However, in order to use the exchange, you first have to make an account. The signup process is quite straightforward and Level 1 doesn't require traders to verify their account so it is also relatively quick. The withdrawal limit for this level is 2BTC daily. As far as Level 2 is concerned, you can withdraw 100BTC per day, but this account requires you to upload a photo ID, which then needs to be approved. Further higher limits are also provided, but traders have to contact Binance directly for this purpose.
(Advertisement)


CypherMind-HQ.com Artificial Intelligence Crypto Trading System – Get Ahead of the Curve with this sophisticated AI system! Harness the power of advanced algorithms and level up your crypto trading game with CypherMindHQ. Learn more today!
The verification time can vary as it depends on how busy the support staff is. Therefore, traders need to plan ahead if they want to make large withdrawals and should complete this step to avoid any delays. Once they have completed these steps, traders can now fund their account. There are a host of digital currencies that can be used, but it is best to stick with ETCH or BTC. The time required for funding can also vary according to the currency you have selected as it relies on the currency's blockchain.
Some currencies can be faster such as Ethereum whereas Bitcoin may take some time. After you have successfully funded your account, you can begin trading, investing and exchanging various pairs of digital currencies. There are plenty of choices you can enjoy on Binance as it doesn't just support numerous digital currencies, but also offers a multitude of ICO listings and their tokens. Currently, you can only use Binance for generating market and limit orders, which some might regard as a disadvantage as more trading options were expected.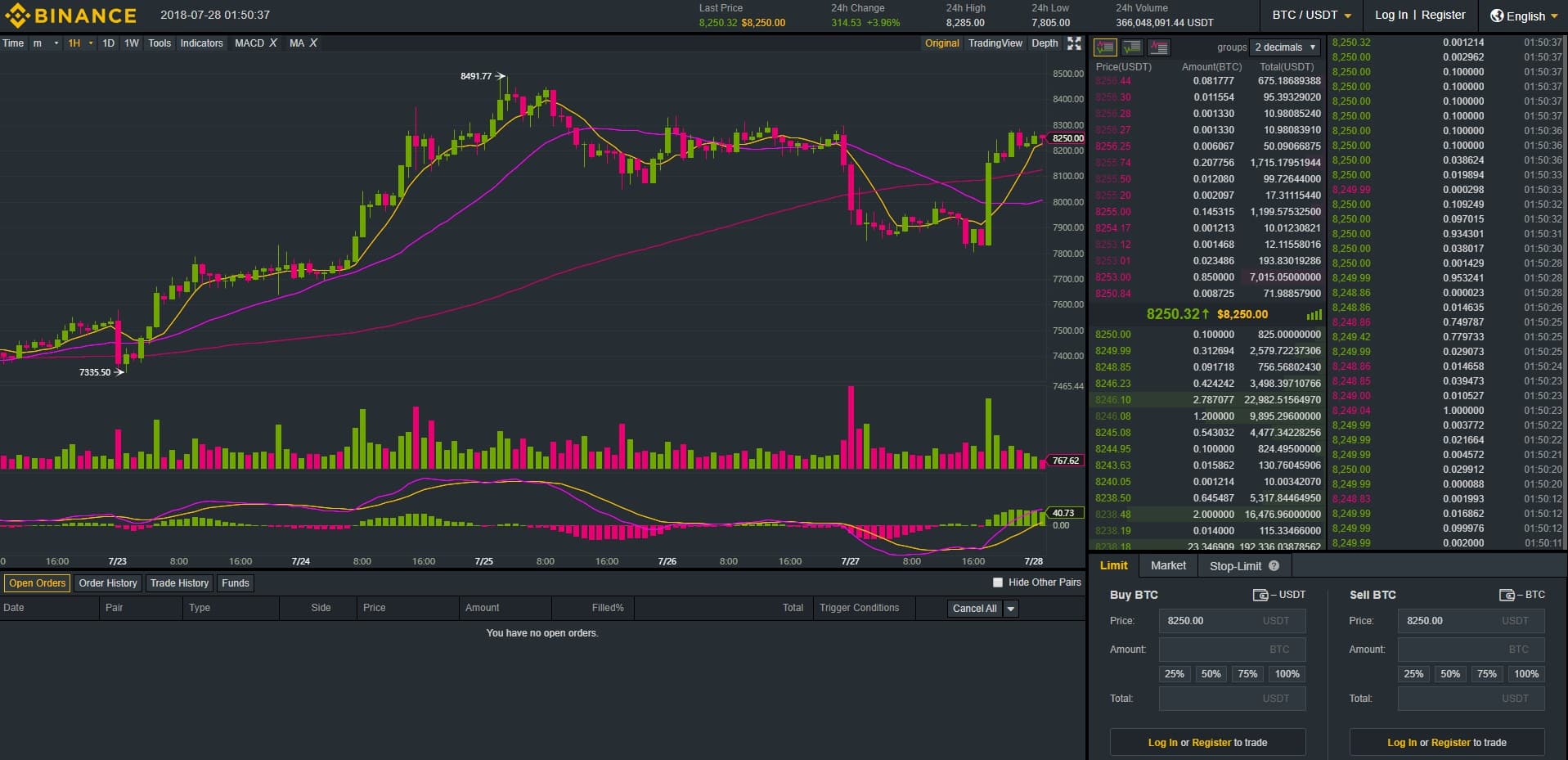 If you have used any other cryptocurrency exchange before, you will find trading on Binance a very simple process. You can trade pairs in BTC, ETH, USDT and BNB. Nonetheless, it is the wide variety of support coins that has garnered Binance the popularity it holds. The platform can be used for a wide array of digitals, which include, but are not limited to Bitcoin, Bitcoin Gold, Bitcoin Cash, EOS, Ethereum, LiteCoin, Ethereum Classic, Dash, Ripple, Zcash, GAS, NEO and more. As mentioned above, the exchange also supports various tokens part of ICO listings. Hence, traders can also make a profit by trading these tokens.
In contrast with other exchanges, Binance has proven itself to be fairly quick in adding new tokens after their ICO, which means that they can be used for earning greater profit in the long term. Binance Coin is another important feature to be noted and it was introduced during the platform's own ICO. It can be used for fee payment and will also be used as one of the base currencies in the decentralized exchange the company wishes to create in the future. Moving onto the fee, Binance currently takes 0.1% for every trade made by a user.
Traders who opt to use the Binance token will have their trading fee reduced by 50%, which is definitely a huge benefit and ensures that Binance offers some of the lowest fees in the market. In regard to withdrawal fees, they can vary for every currency. For instance, Bitcoin withdrawals cost 0.0005 whereas ETH withdrawals cost traders 0.005. Coming to transfer limits, traders will be happy to know that there is no limit on the number of coins they can deposit. But, there is a withdrawal limit if they are not verified.
In regard to safety, even though Binance is one of the newest cryptocurrency exchanges, it has managed to attain a high level of trust from its traders rather quickly. It makes use of two-factor authentication for the purpose of security. A hacking attempt was made in March 2018, but was caught by the automated systems used on the exchange and it was the hackers who ended up suffering. This has instilled confidence in the users where Binance is concerned. Apart from that, the exchange also has a capable and responsible customer support team for offering professional assistance to traders and options like online form and email can be used for getting in touch.