A big part of the reason for copy trading's rising popularity is the variety of benefits it offers. It enables users to imitate the trading strategies and techniques used by the top players on the market. As a result, there is a higher chance of carrying out winning deals and getting the best returns. To get the most out of their investment, investors must choose a copy trading platform carefully and based on sound information. So, if you are looking for a platform like that, you can benefit significantly from reading our review of ZuluTrade.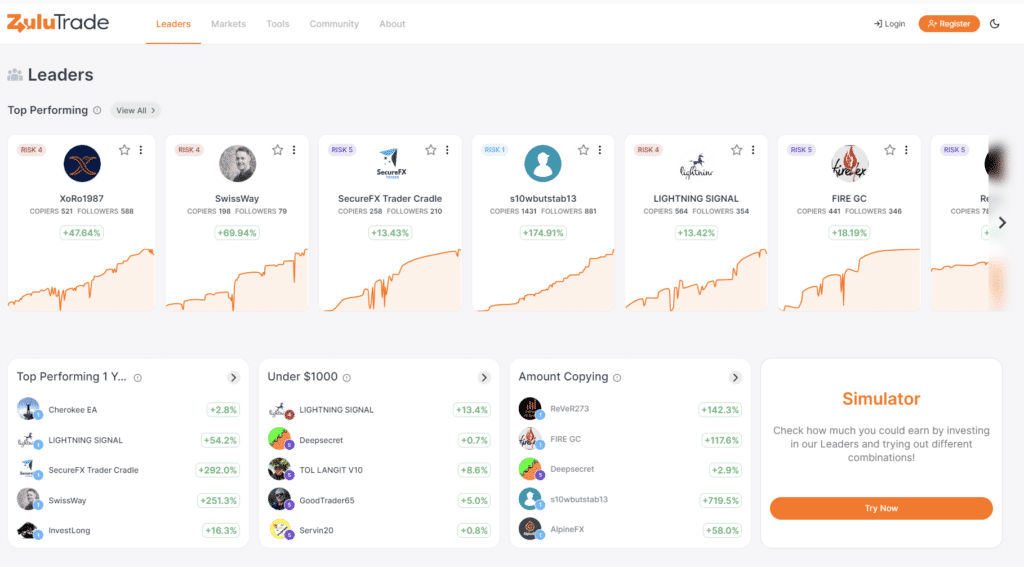 After carefully examining all the platform's services, it is clear that ZuluTrade offers investors a wide range of instruments to ensure a smooth and effective trading session. Following is a list of the features that the ZuluTrade copy trading platform offers its users.
Earn Money by Participating in the Affiliate Program
The basic goal of investors is to make money and doing so is not contingent simply on forex trading or online investments. The powerful ZuluTrade copy trading platform makes it possible to increase the money you make in other ways. You may, for example, sign up for their affiliate program, which provides a second source of revenue through the website itself.
(Advertisement)


CypherMind-HQ.com Artificial Intelligence Crypto Trading System – Get Ahead of the Curve with this sophisticated AI system! Harness the power of advanced algorithms and level up your crypto trading game with CypherMindHQ. Learn more today!
All you have to do is encourage prospective investors to sign up for the program by promoting the features offered by the ZuluTrade copy trading platform. You'll be then compensated for your part in bringing them to the platform once they have successfully registered. It is essential to note that this technique does not involve risk or capital investment, enabling you to make revenue without endangering your resources.
The Ideal Option for Those Who Are Eager To Explore the World of Forex Trading
The ZuluTrade copy trading platform is a must-have if you're serious about forex trading. It provides a wide range of major and minor currency pairs for you to choose from when investing. This makes it possible for users to carry out good trades and decent returns. The trading experience of investors continues to be enhanced by the platform's variety of trading signals and tools.
These trading tools and signals are essential for investors to find the right opportunities. They provide an understanding of current market conditions, making it easier to identify the best times to make investments. An investor can render wise judgments with the help of tools like the margin calculator and Pip calculator. In conclusion, this reliable platform offers a world-class copy trading experience.
Quick and Helpful Customer Service
This ZuluTrade review is incomplete without mentioning how important it is for the platform to provide customers with an excellent experience. The quality of service that is offered is an essential element in determining investors' experiences. As a result, this online copy trading platform provides investors with 24/5 customer service. There is very little chance that you will have problems utilizing this platform.
Hence, making this platform an attractive choice for investors. In a highly unlikely scenario that you run into any problems; you can have the assurance that the exceptionally professional customer care team is there to help you out. There are three handy ways to get in touch with them: over a phone call, email or through live chat. You can choose either one of them that provides you with a swift solution to your problem.
User-Friendly Interface
Dealing with a copy trading platform with a complicated UX/UI design is not something you would like. Your entire trading performance may suffer, and it may also make it more difficult for you to make sensible financial choices. Therefore, selecting a copy trading platform that prioritizes giving you an outstanding service is crucial. Thankfully, the ZuluTrade copy trading platform outperforms every other social trading platform in this area.
It places a great emphasis on giving users a clear and simple user experience. The platform's team is committed to continually bringing new improvements for this same reason. Your use of ZuluTrade will continue to get more effective due to this continued dedication. It is a great option for beginners entering the market because of its intuitive design. But experienced leaders can also take advantage of it as well.
Final Words
This ZuluTrade copy trading platform review was written in order to give you an understanding of the platform's capabilities. Considering all its features in-depth might help you decide if this copy trading platform meets your requirements. Personally, I don't think there are many social trading platforms out there that can compete with this one. As a result, I highly suggest considering it and using this site for your copy-trading pursuits. You can easily connect with some of the top leaders in the market and replicate their strategy to achieve your goals.