30th May, 2019, London: Recently released Bloomberg data [FT 28/5/19] reveals that Bitcoin has returned gains of 140% in 2019, more than half of them arriving in May.
Launching into this fresh market optimism, London-based INDX is set to unveil one of the first regulatory-compliant STO funds. The INDX team have developed a proprietary algorithm to deliver a compelling passive income opportunity based on the rapidly-expanding Masternode asset class. Masternodes are blockchain validators for Proof-of-Stake networks that function in the same way as miners in Proof-of-Work systems but without the high energy costs.
As part of their investment strategy INDX has completed an exhaustive review of every masternode project currently active and arrived at a list of the TOP 10 MASTERNODES that will form the foundation of their portfolio.
Based on a value of over $7MM, comprised of over 1,500 individual nodes, the INDX Algorithm has selected a portfolio of ten positions with a yield of 44% forecast for investors. The INDX algorithm considers volume, liquidity, volatility, yield-cost, risk and due diligence to determine the optimal portfolio balance.
INDX TOP 10 Masternodes by Yield

Dash

6.32%

Syscoin

8.62%

PIVX

10.11%

ZCoin

16.89%

Stakenet

17.36%

Horizen

17.58%

SafeInsure

245%

EtherZero

28.73%

APIS Private

35.67%

SnowGem

44.53%
The proprietary INDX Algorithm scans all currently available Masternodes and selects a risk-managed portfolio, overseen by a panel of investment and technology experts. The INDX Platform then hosts the Masternodes, secures the wallets and collects the rewards. Simultaneously, the INDX Hedge protects the portfolio against the risk of a market crash. Investors wishing to gain exposure to the fund need only purchase an INDX token which entitles them to receive a 50% net dividend delivered directly to their designated wallet each quarter.
(Advertisement)


CypherMind-HQ.com Artificial Intelligence Crypto Trading System – Get Ahead of the Curve with this sophisticated AI system! Harness the power of advanced algorithms and level up your crypto trading game with CypherMindHQ. Learn more today!
Additionally, the value of the INDX token is expected to appreciate when traded on exchanges in line with the fund performance, since the balance of profit is constantly reinvested back into the portfolio.
"Over 18 months we've built the technology necessary to capture all the profits from these high yielding crypto assets, while protecting ourselves from a downturn," said Jonathan DeCarteret, CEO and co-founder of INDX. "Our fund will make it simple for investors of all sizes to enjoy the benefits of the digital economy as well as opening the gateway to institutional capital into this new superclass of assets."
INDX will launch its security token offering on June 1st, 2019, before offering exchange listing and quarterly dividends from Q3 2019.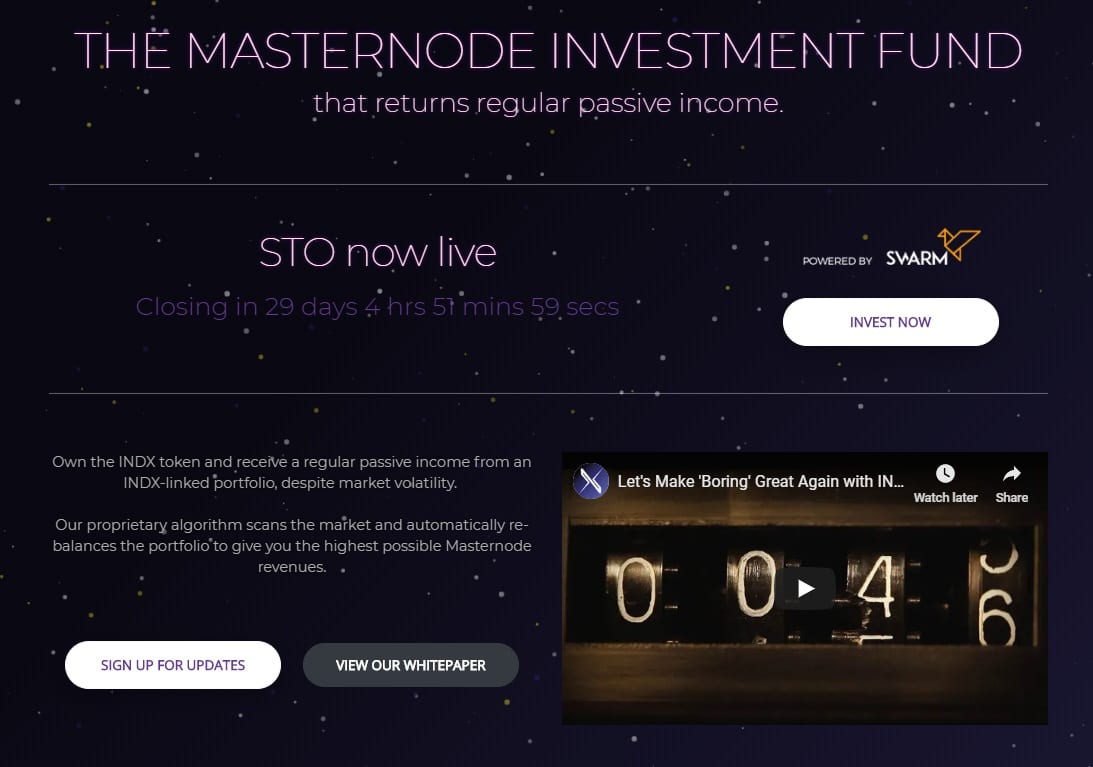 About INDX
An award-winning, VC-led, asset-backed and regulatory-compliant STO, fully tradable on exchanges, giving investors liquidity with zero exit fees. INDX is an index-linked crypto fund that gives retail and institutional investors access to the passive income benefits from cryptocurrency Masternodes. Using a proprietary algorithm to research the best Masternode investment opportunities, this data is then continually reviewed and managed by our expert investment committee which has expertise in both crypto and traditional finance. Once approved, shares in the Masternodes are acquired and profits are distributed to INDX Token holders.