iFOREX Review
Summary
Here at The Next Bitcoin, you can learn about many trading platforms, one of them is iFOREX. We have concluded that iFOREX is a good trading platform. It is NOT a scam! Read our iforex.com review today and learn all you need to know about the iFOREX trading platform and why we recommend it for all traders.
Cryptocurrencies are a group of volatile instruments that can be traded for greater risk, but also for possibly greater gains. Because they are relatively new compared to forex and other instruments, it's still uncertain how much the market as a whole or a specific cryptocurrency would grow. Therefore, when a trader wants to add risk to their portfolio with cryptocurrencies, they need to do it in the most secure way possible.
iFOREX offers several tools to make these trades as safe as they can be to allow traders on the platform to forecast market trends and invest their money more wisely. With over 25 years of experience, iFOREX gives its clients the ability to trade cryptocurrencies with insight and safety.
The cryptocurrency market is de facto divided into two, Bitcoin being the most used cryptocurrency by a wide margin, and all the other coins called altcoins, alternative coins, as they serve as the rest of the market. Bitcoin holds about a third of the trade market according to Wikipedia. However, Ethereum is gaining significant ground with better features than its older predecessor.
CFD Trading
You can open either "buy" or "sell" deals on iFOREX. The platform offers over 750 instruments including forex pairs, stocks, indices, ETFs, commodities, and cryptocurrencies. iFOREX offers 42 different cryptocurrencies to trade as CFDs. A CFD, a contract for difference, mimics the price movement of the actual instrument without the need to physically own it. Therefore, when you "buy" Bitcoin on iFOREX, you gain or lose as the value of it goes up or down, like the actual instrument. A "sell" trade would be in place if you forecast the value to drop. The earnings and losses are accurate to the actual instruments, including cryptocurrencies.
How to Open a Deal on iFOREX
The iFOREX trading platform is available on both mobile and on the web. Once you are registered, you can start trading. iFOREX offers 1-on-1 trading in multiple languages and a $5,000 demo account to practice trading. This is great for novice traders to expand their trading knowledge. There are also free guides on the iFOREX website for free.
While having a demo account or with an actual account that has money invested into it, you can click the "Crypto" tab and pick the one you want to either buy or sell.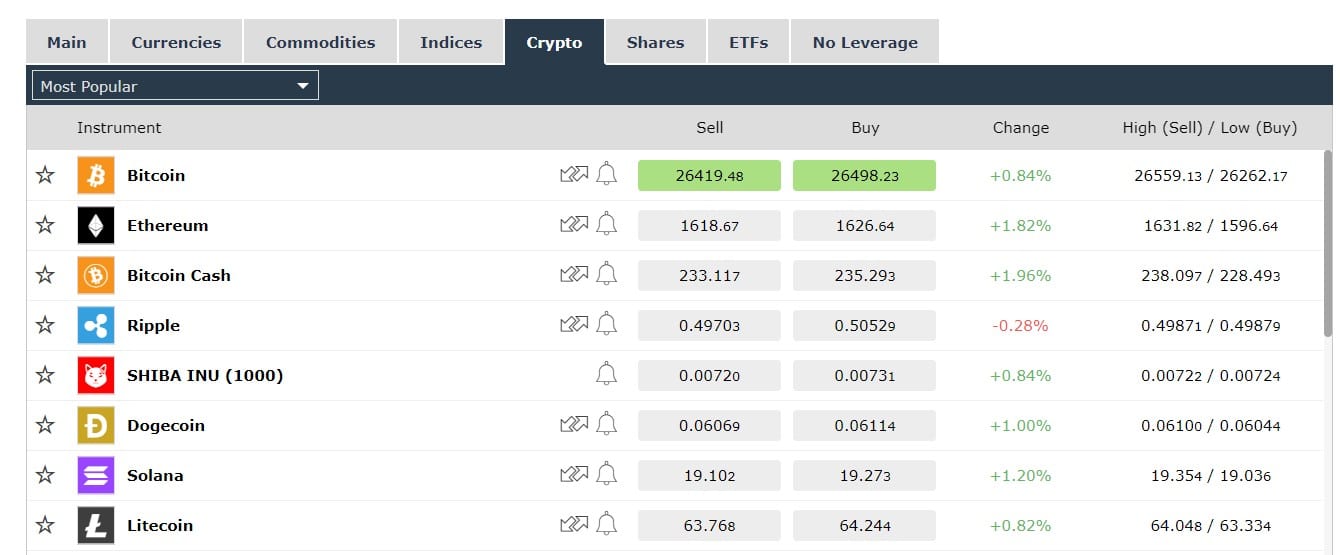 After clicking on the specific instrument, you can click on the different tabs on the new day to learn more about it.
Under the "Chart" tab in the new window, you can see the current buy and sell values and the changing values of the instrument over time. In this tab, you can trade the instrument by buying and selling it with this value, leveraged up to 400:1. This means that the gains and losses from a certain deal are multiplied by that much.
To counter both the volatility of the instrument and the high risk of leveraging for bigger gains, buyers can set up limits to end a deal once something happens. These two limits in value are called stop loss and take profit. The former limits how much you are willing to lose from a certain trade whereas the latter caps how much you are happy with gaining before the value may drop and limit your gains. They serve as important tools for traders to gauge the level of risk they are willing to trade in. Traders can also add a time limit.
iFOREX also offers negative balance protection. A trader can't lose more than they have put into the platform. In other words, you can't get into debt on iFOREX.
To help minimize the risk even further, iFOREX offers additional tools to help forecast movements beyond the chart. Under the "Market Info" tab, a trader can view the Trading sentiment, seeing how much the iFOREX community views a specific instrument, and whether to buy or sell the said instrument. Also, it will show the latest trade of this instrument. Under the "Economic Calendar" tab, traders can view current events that may affect the instrument's value, graded by severity.
Deposits and Withdrawals
iFOREX offers both online and offline methods to deposit or withdraw from the platform. These options include bank wire, credit card, debit card, and e-wallets among others. No commissions are charged for these actions though some fees may apply, depending on the amount deposited or withdrawn and on which option is used.
In Conclusion
iFOREX is the prime option to do online trading. It has dozens of cryptocurrencies to trade in with a lot of information available for each instrument in real-time. There are tools in place to both educate and manage risk for the client's content embedded in the platform. Trading on iFOREX is an intuitive experience for any crypto trader.