eToro Broker Summary
Summary
Here at TheNextBitcoin.net you can learn about many trading platforms, one of them is eToro, we have concluded that eToro is a good trading platform, it is NOT a scam! Read our eToro review today and learn all you need to know about the eToro trading platform and why we recommend it for all traders.
eToro Review

One of the most recognized names in the world of cryptocurrency names is eToro. For over a decade, eToro led the fintech revolution and developed the reputation of being the top social trading platform worldwide. While it started off as a general trading platform, eToro has kept up with the times and added cryptocurrency as well as other trading investments to fulfill the growing demands of traders. Today, eToro has more than 6 million registered users and this has helped it in cinching its place as industry leader. The platform began in 2007, a long time before cryptocurrency was introduced.
In Australia eToro AUS Capital Australia Pty Ltd. is authorised by the Australian Securities and Investments Commission (ASIC).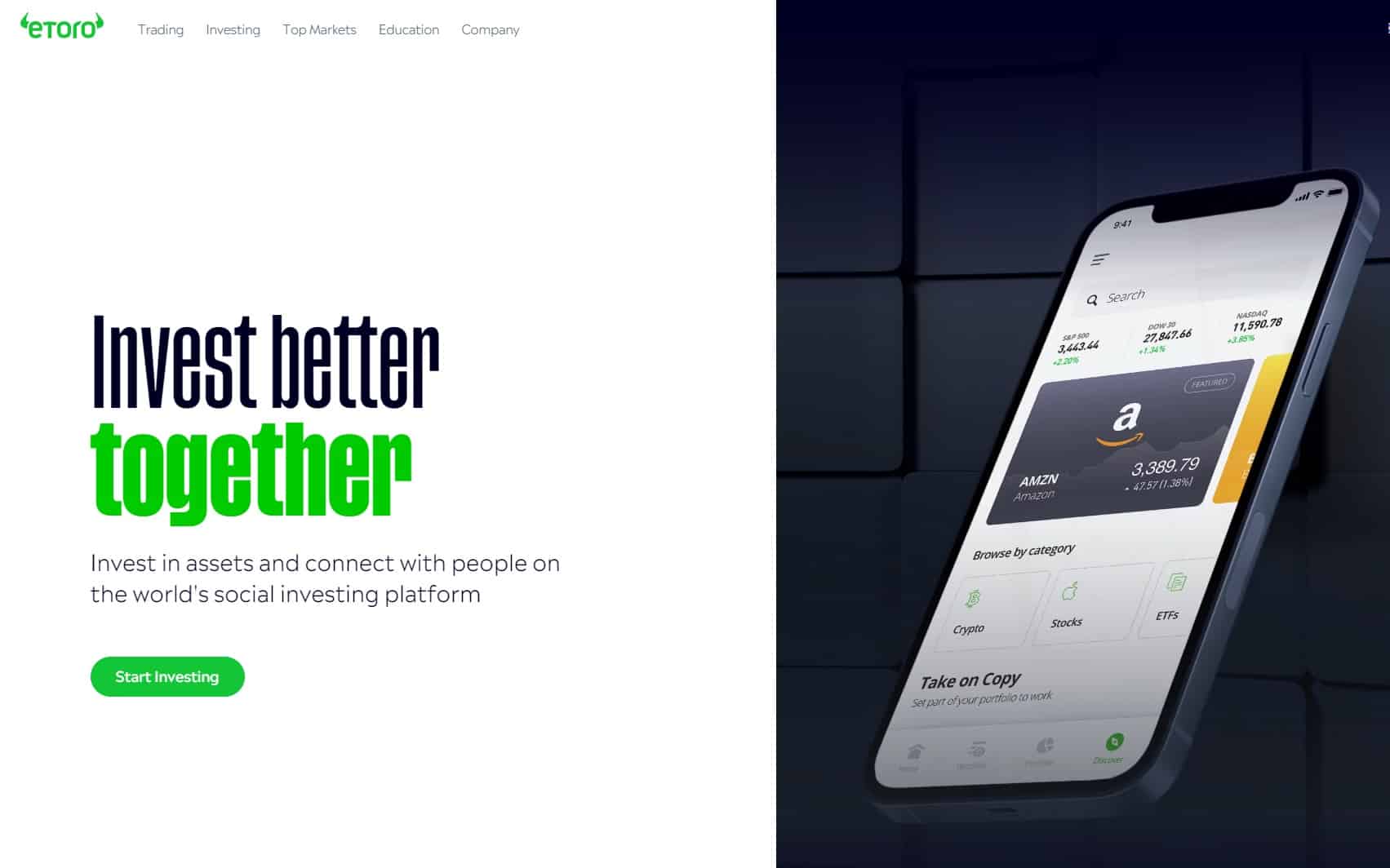 eToro History
Even if you are using eToro for trading in the cryptocurrency market, it is essential for you to remember how it started and evolved. The brokerage began when three entrepreneurs decided to make trading more accessible for everyone, regardless of where they are. In addition, they also wanted to reduce traders' dependency on traditional financial institutions such as banks. Thus, eToro began as an online trading platform that represented financial instruments with graphs and had an intuitive interface. The trading platform called WebTrader was launched in 2009 by eToro with a variety of professional tools to suit traders of different backgrounds.
(Advertisement)


CypherMind-HQ.com Artificial Intelligence Crypto Trading System – Get Ahead of the Curve with this sophisticated AI system! Harness the power of advanced algorithms and level up your crypto trading game with CypherMindHQ. Learn more today!
eToro took a big step forward with OpenBook in 2011, which was the first social trading platform in the world. It also brought the introduction of the then-new feature known as CopyTrader that allowed anyone to copy the moves made by successful traders. eToro was already offering commodities and currencies and it decided to add stocks as well in 2012. A mobile app was launched by the brokerage in 2013 for both Android and iOS devices to expand its reach. This is when the platform dipped into the cryptocurrency market and began offering Bitcoin via Contract for Difference (CFDs).
eToro CopyFunds
The interface was updated by eToro in 2015 to provide an even more innovative and intuitive experience. CopyFunds was added in 2016, which are managed portfolios for bundling top traders or assets in a market strategy. These are usually used my machine-learning engines for maximizing returns. Eventually, in January of 2017, eToro expanded its asset reach and stepped into the world of cryptocurrency trading by adding support for cryptocurrencies through its platform. It started off with a range of popular cryptocurrencies such as Litecoin, Ethereum and XRP.
eToro Crypto Trading
One of the best things about eToro is that it provides traders access to some of the top cryptocurrencies in the market such as Bitcoin, Bitcoin Cash, Ethereum, Ethereum Classic, Ripple and Litecoin. The sheer number of trading and investment options available on the platform also help it in standing out. As there are numerous ways of investing and trading, people can use eToro for cryptocurrency trading and also buy and sell other traditional assets. eToro is also made unique thanks to its social elements like CopyFunds.
eToro Education and Tools
Another appealing feature of eToro is that it is not just interested in providing a platform for investment, but also wishes to educate traders. These educational and training resources can be immensely useful because they allow traders to expand their portfolio. When users register on eToro, they can get access to 'virtual-money accounts' that have virtual funds of $100,000 and can come in really handy for working on skills and strategies before you invest any real money.
Multiple other tools are provided by eToro for that can be useful with actual trading like an economic calendar. You just have to input the time zones and dates you want to look at and also the assets you wish to trade. The calendar then displays events that are most likely to have an impact on your chosen assets. Furthermore, it also provides regular analysis of the market, which includes quick overviews and great details so you can use as little or as much information as you like.
eToro Crypto CFDs
Cryptocurrency and CFD trading go hand in hand on eToro. As stated earlier, the broker first entered the world of cryptocurrency in 2013 by offering Bitcoin trading through CFDs. This made it one of the earliest players in the world of crypto. Even now, CFDs continue to play a key role on the platform because many of the trades relating to cryptocurrencies are still CFDs rather than the actual asset. Actual cryptocurrency trading is also available and it started in September, 2017.
As mentioned above, CopyFunds was also added to the platform and this feature is applicable for cryptocurrency trading and traditional fiat trades as well. It allows you to create a single tradeable asset, which comprises of carefully selected assets or traders of a specific strategy. The CopyFunds are composed by the eToro Investment Committee and they rebalance them periodically. Investors will be able to find several cryptocurrency CopyFunds to choose from.
eToro Crypto CopyFund
One of these is known as 'Crypto-currency' and delivers exposure to Bitcoin and Ethereum. Another is known as 'Crypto CopyFund', which comprises of a balanced crypto portfolio including Litecoin, Bitcoin, Ethereum, Ethereum Classic, Ripple and Dash. CopyTrading is another exciting feature that you can use for your cryptocurrency and fiat investments on eToro. This allows you to copy traders of your choice and is a great way of getting some exposure in the market without having to do a lot of research.
eToro Fees
eToro makes its profits from the different fees it charges from its traders. You will not be charged anything when you are opening a position as the fee is generated based on the spread. A minimum list of spreads is provided for every cryptocurrency available on eToro, but you should know that these spreads can vary as per market conditions and liquidity. Due to the nature of cryptocurrency trading, it is available round the clock and no fees are applicable for weekend or overnight trades. Instead, eToro only charges traders for shorting cryptocurrencies or for holding leveraged BTC or Ethereum positions. The daily break spreads offered on eToro are 5 percent for BCH, 1.5 percent for BTC, 5 percent for XLM, 3 percent for LTC, 3 percent for XRP, 2 percent for Ethereum, 5 percent for ETC, 3 percent for DASH and 5 percent for NEO.
Ease of Use
It is not just the features of a platform that matter to the traders, but also its learning curve. Here again, eToro manages to excel because it is incredibly easy for traders to use this platform. It was designed to be as intuitive as possible to make it simple for traders to find the information they need and start making trades. The platform can be used on personal computers, Macs, iOS and also Android devices. You can find all relative information about cryptocurrencies displayed in the form of graphs and other concise methods to make it easier to understand and use for making trading decisions.
eToro Deposits and Withdrawals
When it comes to deposits and withdrawals, there are multiple options at your disposal so you can select whatever method seems appropriate to you. However, when it comes to deposits, you should remember that the minimum amount that should be deposited varies according to the method you choose. You can choose to make deposits to your account on eToro through bank transfers, wire transfers, VISA and MasterCard debit and credit cards and electronic methods such as Neteller, Skrill, Webmoney UK, Yandex and PayPal.
If you are making a withdrawal, you have to fill out the form on the website and then you will receive the money via PayPal, credit or debit cards or bank transfer, as per your preference. But, you should bear in mind that if you are making a withdrawal, you are going to need a copy of your signature, proof of address and a color passport copy. It takes one to two days for electronic requests to be processed whereas credit and debit card withdrawals take eight days. As for bank transfers, at least four business days are required. The minimum first time deposit that people have to make is $200 and this applies to all countries with the exception of Israel where the deposit amount is $10,000.
eToro Accounts
Account types have also been made simple by eToro. There is just one live account type other than the demo account that's available for practice purposes. The best thing about the account opening process is that it is fast, fun and completely digital. It takes only one day for opening an account and you can register yourself with your email or even your Facebook account. There is a two-tiered customer identification process. You should both deposit $2,000 and fill out a customer profiling test or you have to provide your identity and residency electronically. The customer profiling on eToro is excellent as it is fun to fill, has lots of pictures and quite straightforward. You are also asked trading questions to test your knowledge.
For customer identification, you are required to upload a copy of your personal ID or passport and for your customer residency, you have to provide a copy of your utility bill that shows your address clearly. This process is also 100% digital so it doesn't take a lot of time and effort on your part. One thing that traders should remember is that you can only make eToro accounts that have USD as their base currency. This means that if you use a different currency for adding funds to your account, eToro will convert them to USD. Conversion charges are applicable in this regard.
eToro Security
In order to ensure that traders can enjoy peace of mind, eToro has taken multiple steps for providing security. As a whole, the company is fully regulated and adheres to guidelines outlined by CySec and FCA. There is a range of tools for traders of all levels in order to help them make good decisions like the risk-management features and guidance for the initial steps. Other than that, eToro has also taken precautions for ensuring the personal information and funds of clients are safe. The traditional funds are kept secure in European banks of tier 1.
Nonetheless, it is important to remember that since cryptocurrencies are not regulated, you will not find any investor compensation schemes. Despite that, eToro takes great pride in resolving any issues, if any, as seamlessly as possible.
eToro Customer Service
One of the most important elements of any brokerage is the customer service it provides to its clientele. Cryptocurrency trading is extremely sensitive and decisions have to be made in a better of seconds. Therefore, you need answers quickly and this is something that eToro clearly understands. They have a web based ticketing system that you can use or you can also use email for reaching out to them. Plus, one of the best things is that eToro provides customer support in multiple languages such as Spanish, Italian, Arabic, Chinese, Polish, Russian, French, German and English.
No matter what method you choose for reaching out to eToro's customer support, they are very responsible and quick in resolving your problem or answering your queries. The quality of answers is great and their tone is also very professional. You don't have to wait for long and this makes the process extremely easy for the traders because decisions can be made quickly.
eToro does focus on more than cryptocurrency trading, but it is a wonderful platform for anyone who is interested in investing in the cryptocurrency market. You can get access to some of the most popular cryptocurrencies with eToro. There are some additional features that enable eToro to get an edge over its competitors such as CopyFunds, charting tools and different graphs.
User Friendly Platform
Another aspect that appeals to every trader, no matter what their experience and skillset, is the fact that eToro has a very intuitive and user-friendly interface and everything is easily accessible. Security is also a priority on this platform and deposits and withdrawals are also made easy. You can find tons of educational materials and resources available and a practice account to help you get started with little risk. Plus, the fees are reasonable and competitive, which makes eToro an excellent choice for trading the cryptocurrency of your choice.