Investing in global markets can help you achieve financial progress. If you can build a well-managed portfolio, the opportunities are endless in the markets. A good broker usually helps. A reliable financial services provider offers crucial support services that set traders and investors on the right path. Here we will discuss Axia, to determine whether it is reliable or not, and highlight some of its key features.
About Axia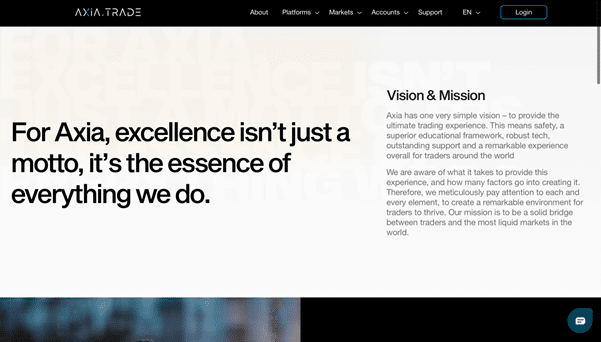 Axia is a broker that offers trading services in various types of financial instruments. It is registered and licensed by the FSA, which means it meets strict rules and standards that aim to protect clients and their funds. Axia complies with those regulations and aims to provide the best trading experience for its clients.
Security
(Advertisement)


CypherMind-HQ.com Artificial Intelligence Crypto Trading System – Get Ahead of the Curve with this sophisticated AI system! Harness the power of advanced algorithms and level up your crypto trading game with CypherMindHQ. Learn more today!

Axia takes the security of clients and their funds and data very seriously. It implements various measures that aim to protect them. Those include separating its operational funds from client funds and having standard cyber security protocols (such as advanced encryption) to protect the data of clients. Axia is audited by regulators on a periodic basis to ensure its operations meet regulations.
Deposit and withdrawal policy
Axia meets know your customer (KYC) requirements. That means that as a trader you must provide enough information about yourself, in order to be able to trade. This includes a proof of identity document and a proof of address. Once you submit those documents you can deposit funds in your account using one of several available methods: via a bank wire transfer or via a debit or a credit card.
You can also easily withdraw funds by submitting a request which will be processed quickly by the team at Axia. You cannot withdraw the funds to a third party and the funds can only be transferred to you, the owner of the account, in order to meet regulations.
Support
You can contact the Axia support center at any time. They are available 5 days a week, 24 hours a day to serve you. They speak several languages including Arabic, English and Spanish, and they can be reached by email, phone or direct chat. They will happily answer all your trading related questions and help you progress.
Assets
Axia aims to provide a variety of assets so that you can always find a good instrument to trade. In total, there are around 400 assets to choose from. Those include:
Forex pairs: forex pairs move quickly and offer many opportunities along the way. You can trade major and minor ones with Axia.
Stocks: Stocks are good for longer term oriented investors. Several shares are available with Axia.
They are more suitable for passive investors.
They can help in diversifying your portfolio.
All the above-mentioned instruments are available to trade via CFD contracts with Axia.
Summary
Axia is a secure broker to work with, given its legal status and experience in the markets. It offers several features and a good range of assets to trade. It can help you progress in financial markets. After carefully examining the website, platform and infrastructure, our rating for it is good.